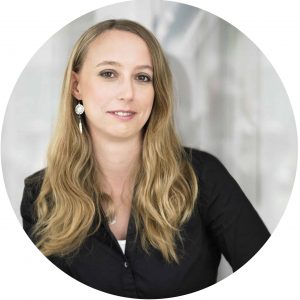 Katja Berger (born 1986) is originally a trained bookseller and has an AP degree in marketing management specialised in digital marketing. In 2016, her debut novel was published, the critically-acclaimed fantasy novel De 7 synder (translated: The 7 Sins). Since then, she has published the dark-fantasy bestseller Sjælehenteren (English title: The Reaper of Souls), which is the first volume in the trilogy Tales of Death, and in 2018 the sequel, Døden lyver aldrig (translated: The Reaper Never Lies), will be published. In 2018, two works of non-fiction, made in collaboration with the Danish company Skriveværkstedet and the publishing house Linje H, will also be published in addition to both a Swedish and an English translation of The Reaper of Souls.
Beside her writing, Katja Berger gives talks about her books at schools, libraries and organisations. She is a speaker at AOF and has been at events all around the country, where she inspires young people to read and write and also encourages debate about how to stop bullying and take collective responsibility for social solidarity among young people.
Katja Berger teaches writing courses all over the country and is fully self-employed. In addition to her work as a fiction writer, Katja also writes for a number of Danish businesses, is an editor of fantasy and science-fiction publications and works as a marketing coach at Skriveværkstedet. She is also the co-owner of the brand www.foodadventures.dk, where she writes about food and travel experiences.
Katja is an active member of the association Håbefulde Unge Forfattere (Translated: Hopeful Young Writers) and the blogger network Bloggers By Heart, and she always has plenty of projects underway. You can follow her on Facebook and Instagram, where she often shares both small and big experiences and life moments.
This is why Katja often Talks about Bullying among Young People
Katja is a passionate advocate for stopping bullying among children and young adults. It is an issue which is close to her heart since she has experienced it herself. Katja's personal story about bullying began when she was seven years old. It was around then that she became a big sister, and at the same time her mother's husband was diagnosed with sclerosis and began changing dramatically.
Katja says that she can barely remember her childhood from when her mother's new husband was not ill. His illness wore not only him down but the whole family, and as the child of another man, Katja often became the target, when he needed to vent his frustration. As Katja says at her talks: 'He coped with his problems by venting his anger on others, but that never makes it alright or acceptable.'
Katja grew up as the quiet girl. In school, she was never the popular one but had a small group of close friends. As the psychological bullying at home increased, it began to be felt in the outside world where Katja became an easy victim of bullying. At home she learned that she was stupid, worth less than others, ugly, selfish, a waste of time and space, useless… And in school, she in time became the easy victim in the schoolyard. Although the few friends were still there, Katja experienced the bullying make its mark during fifth grade. She was teased, pinched, pushed, hit and kicked… And no matter how hard the adults tried to find solutions, nothing changed for Katja or the bullies, who were never held accountable.
Today, Katja bears no grudge towards her mother or her teachers from back then. She thinks they did what they could. However, she also says that: 'It was a classic example of how the Danish public schools are seldom capable of handling bullying constructively and of how parents often deny responsibility, when they are confronted with a reality where their little angel is not as innocent as they thought. We must create a common debate, not a one-way conversation.'
Books Became Katja's Way Out of Bullying
Later, Katja discovered the school library by chance. She realised that books could be more than homework and chore-reading and from being a completely ordinary eleven-year-old reader she turned into a ravenous bookworm who tore through anything she could find.
'I still cried when I was alone, but when I stepped into the library, I was no longer the weird one, and I was not teased. I was left in peace, and like that I found a "safe haven". I could not change my own life, but I could hide in someone else's. At least for a while.'
As she read more and more books, Katja began writing small stories and tell her own adventures. Notebooks were filled, and she developed a healthy interest for language and what makes a good story.
'The underlying reason was probably that I had realised a particular thing that writing could do: It could give me a voice! To a girl like me, that was incredible. I was born with a very weak immune system which especially affected my ears. Until I was about halfway through kindergarten, I had almost chronic otitis. Because of the inflammation I heard all the words wrong, and therefore I also pronounced them wrong. Even after ten years of speech therapy, there are still errors in my pronunciation, especially when I become nervous or eager. But not in writing.'
However, although the interest in books increased and the bullying stopped after changing schools, it was difficult for Katja to open up again. At home the psychological degradation became ever more intense, and Katja began questioning whether the ugly words might be true. The familiar harsh words began haunting her and echoed in her head when she was alone, and when she was 16 she succumbed to them. She attempted to take her own life.
She kept her life, but an eating disorder escalated the following year and she made another suicide attempt. Then at last, Katja received the help she needed. She began writing again as an escape from her thoughts and received professional help to treat the psychological scars.
Katja is now healthy and has come out stronger than her enemies could ever have imagined. She is an active champion of vulnerable children and young adults, and she has made it a main goal that her writing should make a difference to those who struggle with the same demons as she did back then.